Motan Group
Material/resin handling systems and stand-alone units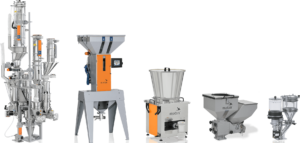 Compounded material is expensive but guarantees good results. To be profitable, blending needs to be done in-house. Accuracy and consistency of the blend are the key factors in determining product quality.
motan offers equipment for gravimetric or volumetric blending. Benefits for gravimetric users include:
Full range of units for many different market sectors
Units can be installed on fast cycling injection moulding machines with no loss of accuracy - immune to vibration
Intelligent controls on all units with full interface capabilities
No time consuming and complicated calibration required
Proof of amount and selection of material used - essential to many operations to guarantee accuracy and eliminate risk of mistakes
Easy to clean and maintain with fast material changes
Recipe storage
For those for whom volumetric blending is the logical process, motan provides these principal benefits:
Wide choice of units
Consistent and cost-effective dosing by gravity mixing
Greater accuracy with inclined dosing screws
Low material costs with masterbatch dosing - buy colour concentrates and base material at optimum price per tonne
Easy materials management and smaller materials store
Achieve total blending accuracy and consistency.
Types of Dosing & mixing:
Volumetric
Gravimetric
Colortronic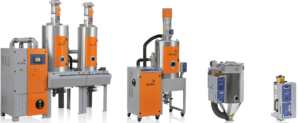 Efficient drying to just the right point with built in energy savings are fundamental to motan's equipment. Correctly dried material is critical to the production process.
motan's centralised drying equipment range allows the customer to:
Use one large centralised dryer resulting in lower maintenance and energy charges and saving floor space in the production area
Reduce machine downtime by having materials pre-dried ready for processing
Benefit from the patented ETA-process® heat recovery system - up to 40% savings compared to a conventional dryer
Eliminate risk of over-drying or insufficient drying; the "DryingOrganizer" always guarantees correctly dried material
Heat directly at the drying bin with complete flexibility for temperature settings
Increase energy savings further by choosing gas drying - at approximately half the cost of electricity
Customers for stand alone units have:
Mobility and flexibility to adapt their system as requirements change
Simple controls
Wide range of dryer and bin options
Same high quality drying process as centralised systems
Excellent value for money
Reduce drying costs and improve drying performance
Types of drying units:
Dry air dryer 
Hot air dryer
Compressed air dryer
Drying bins
Colortronic dryer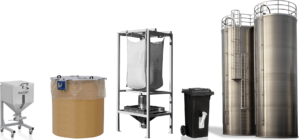 Sophisticated storage solutions, efficient utilisation of raw materials. From small portable containers to large-scale outdoor silos, motan-colortronic provides the right storage solution for your materials handling needs – saving you space, raw materials and reducing the effort and cost of transportation.
Profitability starts with well organised material storage from small day bins right up to large 150 tonnes outdoor silos. motan-colortronic provides the right storage solution for your materials handling needs – saving you space, raw materials and reducing the effort and cost of transportation.
Material blanketing
When processing engineering plastics, efficient and optimal pre-dried material is crucial to ensure impeccable product quality. Engineering plastics are always packaged and supplied pre-dried by the material manufacturer. But the act of opening either the sealed 25kg bag or the Octabin allows moist ambient air to be reabsorbed by the raw material. motan's material blanketing products provide cost-effective solutions to this problem.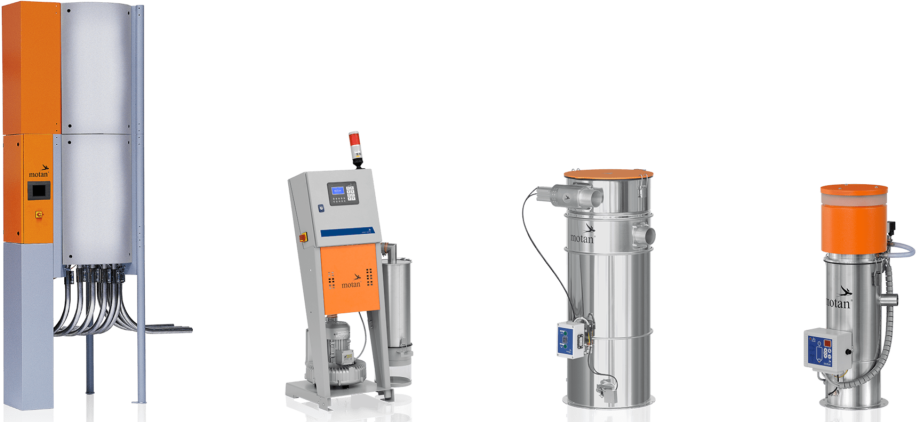 Automatic vacuum conveying protects the integrity of the material, eliminates waste and improves the cost effectiveness of the factory.
motan's central conveying systems enable the customer to:
Derive substantial operational cost benefits from automatic coupling station
Eliminate spillage
Make more productive use of factory floor space
Improve health and safety standards with cleaner, uncluttered workspace
Reduce maintenance costs with reliable, easy to maintain central vacuum pump and filter system
Centralise material storage in one silo serving multiple machines with consequent reduction of bins
Maximise material usage with closed loop recycling
Single unit customers also benefit from motan's material delivery equipment, compared with manual loading:
Labour savings with proven, reliable hopper loaders
Ensured material supply to the machine
Improved health and safety standards in the factory
Faster, more efficient loading
Make the movement of material a factor in improved efficiency.
Equipment:
Material loaders for granulate
Material loaders for powder
Metal separators
Proportioning valves
Colortronic material loaders